Summer of Data Science 2015
I was daydreaming about all of the data science learning I'm going to do this summer, now that I'm done with grad school (M.Eng. in Systems Engineering, yay!) – I'm so excited to get to choose what to work on, and not have homework deadlines in the middle of the work-week!
I had a thought while daydreaming, and tweeted this, thinking a few people might think it was fun and respond:
I'm planning to do a lot of data science learning this summer. Anyone else? Maybe we shld start a hashtag #SoDS "Summer of Data Science" :)

— Data Science Renee (@BecomingDataSci) May 14, 2015
…and as you can see by the RT and Favorite count, it kind of took on a life of its own!
I thought of a variation
…or maybe more fun #SODAS "Summer of Data Science". like a cool, refreshing beverage. & we'll hand off to So Hemisphere ppl in the fall :)

— Data Science Renee (@BecomingDataSci) May 14, 2015
and so did some other people
@BecomingDataSci It could be #SoDaS (just add the little "a" in there for D"a"ta…)

— Nicole Radziwill (@nicoleradziwill) May 14, 2015
@BecomingDataSci #DSS15 Data Science Summer 2015

— BigMikeInAustin (@BigMikeInAustin) May 14, 2015
In the end, it looks like #SoDS won…. and got a whole lot of support because of a RT by @dpatil! Thanks to him, this is what my notifications started to look like: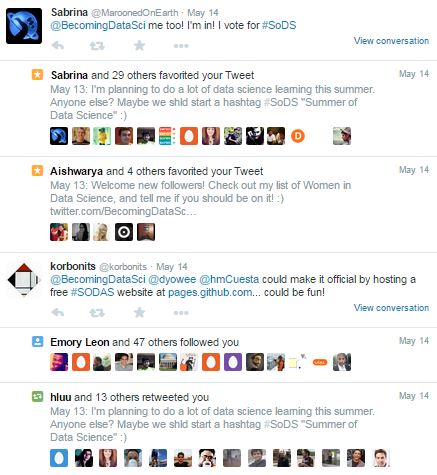 Too bad I was supposed to be working on writing up something for work…. that didn't get done that night! I came back later and was really surprised by the response!
I was excited by all of the new followers, and especially happy that some people appeared to have been inspired by the hashtag to do some data science learning of their own!
@BecomingDataSci @seinecle and is there something like "data science for über-beginners"? =D

— Lexane Sirac (@lexanesirac) May 14, 2015

2 minutes later…
@BecomingDataSci @seinecle @clarecorthell thank you so much! I'll make sure to take part in #SoDS then!

— Lexane Sirac (@lexanesirac) May 14, 2015
So it seems I started something and now I need to follow up! I'm going to tag my summer learning projects on here with the "#SoDS 2015" post category, and tweet about them (of course!) using the #SoDS hashtag on twitter. Will you join me? :)
Here's to an awesome Summer of Data Science! Now I'm going to try to go respond to all of your tweets!
(P.S. the hashtag just started being used by some Dutch foodies, but we'll overwhelm that version with our data science tweets pretty soon!)
P.P.S. we even have a unicorn joining us this summer!
@BecomingDataSci @DataSkeptic count me in! #SoDS #becomingaunicorn

— Data Science Unicorn (@DataScienceUni) May 14, 2015